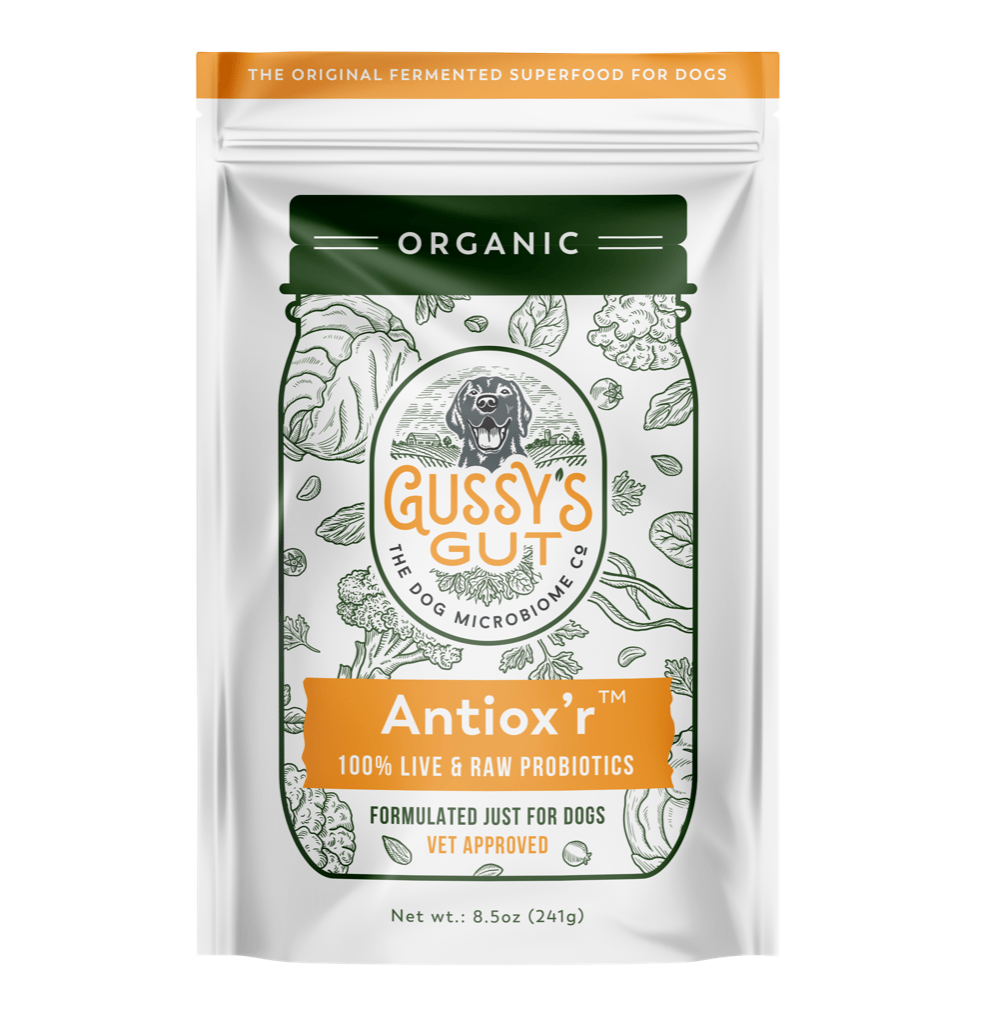 "I see this as their protection and resilience formula."
★ ★ ★ ★ ★ 4.9
Antiox'r is our foundational formula for everyday health and protection.  Support healthy aging with this unique blend of antioxidants, phytonutrients, and polyphenols.  These are highly bioavailable nutrients which means your dog will absorb and receive more of the benefits for their well-being.   This is a Dr. Ian Billinghurst-approved formula.
Batch #52722 is Sold Out.
Pre-order Batch #61022 now - it will ship on June 10, 2022.
Retail Price:  $79.97.  Sold in 🇺🇸 USA only currently.  Outside of USA?
Antiox'r is made from 12 high antioxidant superfoods, fermented and freeze-dried so it's still raw.




Ingredients: *Spinach, *Kale, *Parsley, *Green cabbage, *Broccoli, *Cauliflower, *Wild blueberries, *Rosemary, *Oregano, Grass-fed goat kefir, *Alfalfa, *Kelp.   *Indicates Organic. 

Inactive, nutrient-dense ingredients: High mineral sea salt, organic and aged Romano and/or Parmesan cheese.




This formula is Dr. Ian Billinghurst approved.

How do I prepare and serve it?

Add 1 teaspoon per 10-20 pounds of your dog's weight on top of any food (raw, kibble, or wet). 




Feed less to start if you'd like to get them used to it.  Give it once a day.




💦 Please add a little water to instantly hydrate the freeze-dried ingredients.  Mix well and serve.

Where do you source your ingredients?

Great question!  We go beyond human-grade.  We go beyond "clean". 




We are proud to say, our ingredients are sourced from organic, biodynamic or regenerative farmers.  Organic is our minimum requirement.  We never-ever allow ingredients that have pesticides or herbicides.   Even down to the salt we use in our fermentation.  It's mined from an ancient seabed in Utah, USA where it's safe from modern pollutants. It's pure, unprocessed, and full of trace minerals that give it's one-of-a-kind nutritional benefits.




We get our goat kefir and sheep's cheese from grass-fed goats and sheep.




We get to know and visit our producers.  We ensure they meet our highest standards for a clean, amazing product that we can put our name on.  




Our product is only freeze-dried.  Is this important?  You bet it is.  Freeze drying locks in the raw nutrients and probiotic benefits.   Dehydrating or drying does not.




And as for food safety, our product is safer than you eating a salad at a restaurant.  Our unique two-week fermentation process, naturally works to keeps our product safe from harmful pathogens.




Nothing is too good for our dog customers. Our ingredients are everything to us. 




We will continue to build amazing relationships with the finest farmers and ranchers on behalf of our customers.  

When and how does it ship?

Orders go out the day specified for the batch we're selling.  You will receive an email and/or SMS text with your tracking number and on all delivery status updates.  Orders ship either USPS or UPS in most cases.




We ship free samples within 2 business days (M-F).  You will receive an email and/or SMS if you opted into that notification when it's fulfilled. 




Tracking: We do not send free samples with tracking to reduce shipping costs.  Yours will come first class mail through United State Postal service. 

Why is fermented important?

Fermented foods for your dog are as instinctual as burying a bone and digging it up a week or month later.   For millions of years, before commercial pet foods came along, dogs were eating what they caught in the wild, around the homestead, or farm.  Part of that was the fermented vegetable contents in the gut and colon of their prey. 




Compared to raw vegetables, the raw fermented ingredients in Gussy's Gut is easier to digest, increased nutrient value that is more bioavailable, and contain natural probiotics. 




Dr. Ian Billinghurst declared our product the missing link in the evolutionary diet for dogs.
Save More than Money
Yes, you will save as much as 25% when you order 4 or more.   You will also save on shipping.  You will save packaging and supplies, our staff's time to process, and the impact on the environment.  Order more now and we will pass those savings onto you instantly in cart.  Gussy's Gut has a 5-year shelf life.  
Larger orders may qualify for 4 interest-free installment payments using ShopPay® or Paypal® checkout.
Dr. Ian Billinghurst says...
"Gussys Gut is the single most important upgrade to dog food in over 25 years."
Watch the "father of RAW dog food" talk about why fermented food supplementation like Gussy's Gut is vital for dogs.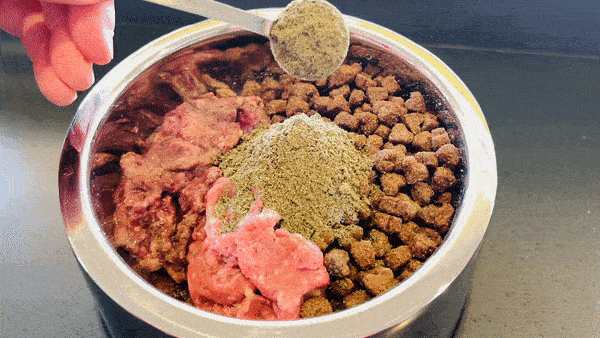 One Teaspoon Can Replace A Whole Lot of Supplements.

Our unique, fermented superfoods create a serious boost to your dog food.  It makes the food you feed more bioavailable, and supports your dog's gut microbiome, naturally.  Nothing synthetic or unnatural here!   Gussy's Gut does 7x the work;  It's your vegetable, probiotic, enzyme, vitamin, mineral, greens and antioxidant all in one.  Now's your chance to see what they think,  sprinkled on their next meal with this sample.  
Taste Good. Do Good. Repeat.
This is the philosophy we live by.
Use up the rest of your probiotic powders and pills, green supplements, enzymes, and antioxidant nutrients.  Antiox'r can replace them all.
Customers are coming to Gussy's Gut because of the amazing quality and veterinarian-created formula.  They all want healthier stools, shinier coats, less allergies, and better health they can actually see.
We've Always Got Your Dog's Back
★ ★ ★ ★ ★
5.0
You're protected by our full product refund policy.  We're here to support you in making great health care decisions for your dog.
★ ★ ★ ★ ★
"So I opened up the package and her eyes lit UP.  She loved it."
— Michele G., San Diego, CA
★ ★ ★ ★ ★
"He loved it and had a very nice stool the next day."
— Corie K., Broomfield, CO